SOLHEIM CUP 2017 -- Des Moines Country Club, Des Moines, Iowa.
USA and Team Europe compete August 18, 19 and 20. Study this chart! Almost all you need to know.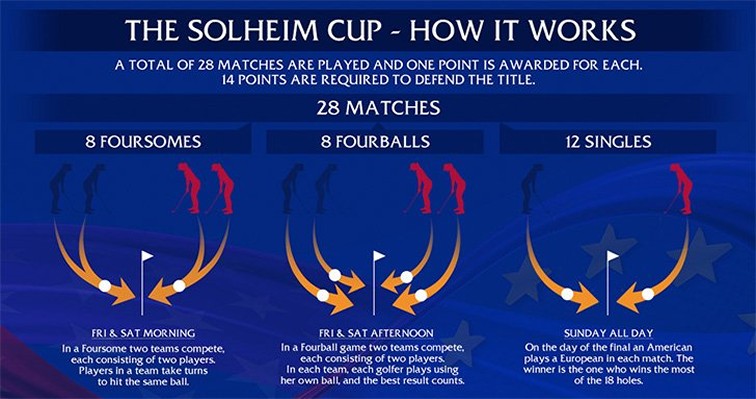 Learn about the woman, Louise Solheim (wife of the inventor of the famous Solheim putter and clubs) and the role she played in one of my favorite articles: https://www.womensgolf.com/louise-solheim/ .
Watch for articles about the 2017 Solheim Cup as we get closer to August 2017. The Captain of Team USA is Juli Inkster and the Captain of Team Europe is Annika Sorenstam. The Teams have been announced and the substitute for Jessica Korda has been announced -- it is Paula Creamer. See my Facebook page for the info -- just click above
New!!!! FOR THE BASICS see article just published:
May 27: Nancy Berkley's Solheim Cup 2017 Preview https://www.womensgolf.com/solheim-cup-2017/
If you want to get a better idea of how exciting the Solheim Cup is and more about match play ... click on the tap Solheim Cup 2015 on the left and read all about it.
To understand more about the Solheim Cup and the "match play" format, see www.womensgolf.com and the several articles I wrote about the 2015 Solheim Cup.