ARTICLES by Nancy Berkley -- I HAVE WRITTEN MANY!!
One-stop-shopping: I was fortunate to write many articles for an excellent website all about and for women's golf. All of my articles for womensgolf.com may be found at the link below. Browse through to find articles about the LPGA, the Solheim Cup, competitive golf on the Tours, timely news stories, fashions, etc.
https://www.womensgolf.com/authors/nancy-berkley
---
---
---
IN THE WAY OF BACKGROUND: I have been playing golf for many years. (see "About Nancy" tab.) After high school and the University of Minnesota and a teaching degree from Harvard Graduate School of Education and raising our children, I went to law school. (Something I had considered earlier but postponed because many law firms were not hiring women.) My legal career with Sullivan & Cromwell (New York) led to a position at Prudential Financial where I was a lawyer and then a marketing executive. And then I became eligible for retirement under a special new program. I took the offer.
Finally, I had more time to play golf. A friend suggested I write about golf and offer some programs for new women golfers. My first efforts were some "guidelines" that I would use in presentations to new women golfers. Then I wrote two books for the National Golf Foundation about how golf facilities could actually be "Women Welcome Here!" facilities. I have written articles for golf magazines and websites and for travel magazines and now publish primarily on the internet. I am a member of several national oranizations that help grow women's golf in the U.S. See my complete background and CV on the "About Nancy" tab.
I AM AN UNUSUAL GOLF WRITER. Most golf writers are really, really good golfers. But, I am a recreational golfer with a 18 USGA Handicap which is not bad! That means that I can relate to most women golfers -- from the brand new golfers to the competitive golfers. I can play golf with anyone. I know the etiquette and the official rules!! And with my official USGA handicap, I can compete with anyone if we want competition. Even if I am playing with men and using different tees, adjustments can be made to my handicap to make it a level playing field.
Yes, I could play with a LPGA Professional -- she would play from the back tees at about 6100 yards and I would play from tees at about 5000 yards; my handicap would be adjusted (I would get more strokes) because of the difference in tee length. There is a special formula for how to make adjustments. (search the USGA site) If you have a question about handicaps, just email me on my "Complimentary Help Line" .
---
I HAVE WRITTEN MANY ARTICLES FOR AND ABOUT WOMEN GOLFERS-- AND ALSO GIRLS GOLF.
WHAT'S NEW IN WOMEN'S GOLF FASHIONS FOR 2018? I am a "fashionista" about women's golf clothes -- not because I always wear the latest fashions but because the trends and styles are so beautiful (even with the LPGA's stricter dress code). One of the most poular articles I have written is "What's New in Women's Golf Fashions for 2017" see https://www.womensgolf.com/womens-golf-fashions2017. I spent two full days end of January 2018 just walking the aisles at the PGA Merchandise Show, talking with the designers and taking lots of pictures. QUICK QUIZ: TRUE OR FALSE: 1. Golf dresses are back in style?" 2. Watch for more "shimmer" in fabrics? 3. Skorts are straight - no more ruffles or layers? Watch for my upcoming article: "New Women's Golf Fashions for 2018." MY VIEW? Women's golf fashions are better than ever. What is very interesting is the fabrics that are being developed -- for other sports -- that are making their way into the golf world.
NEWS: JULI INKSTER WILL CAPTAIN TEAM USA IN THE 2019 SOLHEIM CUP IN GLENEAGLES, SCOTLAND. This will be the third Solheim Cup that I will cover and report on. My articles about the 2017 Solheim Cup in Des Moines, Iowa are listed below and were written for womensgolf.com. Several articles explain the formats of match play used in the Solheim Cup. I am very proud of my coverage of the Solheim Cups. Hope you enjoy reading about them. [The Captain for Team Europe has already been announced and it is Catriona Matthew from Scotland-- and like Juli, Matthew -- Catriona is a golfer of of great integrity, high performance and solid leadership skills -- and also a mother!
Both Inkster and Matthew -- referred to above as 2019 Solheim Cup Captains -- are both mothers and have been able to carry on a competitive golf career. Gerina Piller on the LPGA Tour has just announced that she is expecting a baby in early spring. Piller is caddying for Inkster in the AT&T Celebrity Golf Tournament in February -- I wrote on my facebook "A Team with two moms will be a winner!" There are many young women on the LPGA Tour -- including Kerr with two young children. Day-care has been generously provided by the Smucker's Company (maker of famous jams and jelly). We can't get day-care at most golf facilities, but perhaps the LPGA Tour and its young female players will be the "tipping point' for more day care options at golf facilities.
NEWS: This 2018 season, the LPGA holds the UL International Crown Tournament in Incheon, Korea, Oct 4-7 - first time will be held outside the United States. The Intl Crown is also a team format -- six countries each with four players -- compete in match play. But unlike the Solheim Cup, the International Crown has no designated team captains for each country. It's a study in teamwork and a creative, exciting format with a "wild-card" feature at the end!!
ADVICE FOR WOMEN GOLFERS (my all-time favorite topic). See the fifth tab on left "Be a Leader" -- and see the updated article "Why Women Golfers Must be Leaders" at https://www.womensgolf.com/women-golfers-leaders/
LINKS TO ARTICLES I HAVE WRITTEN ABOUT THE SOLHEIM CUP, MATCH PLAY AND THE INTERNATIONAL CROWN:
These articles are all available on the links below -- and on www.womensgolf.com where they were originally published. The womensgolf.com website is also a great sourse of golf lessons and swing tips from top golf instructors.
NANCY BERKLEY AT THE 2017 SOLHEIM CUP -- https://www.womensgolf.com/at-the-2017-solheim-cup/ --
NANCY BERKLEY'S SOLHEIM CUP 2017 PREVIEW -- https://www.womensgolf.com/solheim-cup-2017/
2017 SOLHEIM CUP FASHIONS - WHO WON -- https://www.womensgolf.com/solheim-cup-fashions/
THE DIFFERENT STYLES OF THE SOLHEIM CUP CAPTAINS -- https://www.womensgolf.com/2017-solheim-cup-captains/
SEVEN QUESTIONS TO ASK WHILE WATCHING THE SOLHEIM CUP -- https://www.womensgolf.com/watching-solheim-cup/
SETTING UP THE COURSE FOR THE 2017 SOLHEIM CUP [IN DES MOINES, IOWA] -- https://www.womensgolf.com/solheim-cup-course-setup/
FOURSOME OR FOURBALL - WHAT'S THE DIFFERENCE? [FORMAT FOR INTL CROWN] -- https://www.womensgolf.com/foursomes-fourball/
ALMOST EVERYTHING YOU NEED TO KNOW ABOUT THE 2015 SOLHEIM CUP -- https://www.womensgolf.com/solheim-cup-primer/
ON SITE AT THE 2015 SOLHEIM CUP -- https://www.womensgolf.com/solheim-cup-nancy-berkley/
HONORING LOUISE SOLHEIM -- WIFE, MOTHER, GRANDMOTHER AND BUSINESS PARTNER -- https://www.womensgolf.com/louise-solheim/
HOW TO COACH FOR MATCH PLAY GOLF -- https://www.womensgolf.com/coaching-match-play-golf/
MATCH PLAY OR STROKE PLAY - WHAT DO YOU LIKE? https://www.womensgolf.com/match-play-or-stroke-play/
WOMEN GOLFERS MAKING HISTORY IN 2016 (THE INTERNATIONAL CROWN) https://www.womensgolf.com/lpga-international-crown-rio-olympics/
ALL THE INTERNATIONAL CUPS [ABOUT THE INTL CROWN] https://www.womensgolf.com/international-cups/
FOLLOWING ARE ARTICLES I HAVE WRITTEN AND PREVIOUSLY PUBLISHED ON www.golfforher.com where they may still be read.
http://www.golfforher.com/3-question-you-dont-want-to-ask-in-competition/
http://www.golfforher.com/just-say-yes-to-that-golf-invitation/
http://www.golfforher.com/how-to-play-a-scramble/
http://www.golfforher.com/7-new-years-resolutions-for-women-golfers/
ARTICLES I HAVE WRITTEN AND PREVIOUSLY PUBLISHED ON www.cybergolf.com -- CLICK THE CYBERGOLF ARTICLE TAB . The articles are not available on this website but send a request to Nancy Berkley and they can be provided. .
---
---
---
(articles are copyright by Nancy Berkley -- all rights reserved. Articles may be used with permission and attribution to www.nancyberkley.com)
Posted December 23, 2017
ADVICE FOR NEW WOMEN GOLFERS: SEVEN LESSONS THAT BEGIN WITH A "TOUR OF THE COURSE [copyright NMB 2018]
If you want to learn to play golf, it can be overwhelming. I reviewed many websites advertised for "new" golfers, and they all assume too much knowledge. Although I am not a professional golf instructor, as a former educator, I understand the art of teaching.
So, if you are a "never-ever" golfer or are very new to the game, here's my advice:
LESSON ONE: Your first introduction to the game should be a 30-60 minute "Tour of the Course" lesson. And it's fun to take this lesson with friends who are also new to the game. Many golf professionals don't think about a "course-tour" as a lesson. But, learning to play golf without understanding the golf course would be like learning to play basketball without a hoop or soccer without a goalie box.
On your Tour of the Course lesson – and it's best to use a golf cart for this lesson – begin at a "tee box" (technically it is called "Teeing Ground") on an easy hole. The instructor should explain the different sets of tees for different playing abilities. Ask to see the scorecard and compare the numbers and tees on the scorecard to the tee where you are standing.
GREAT ONLINE VIDEO TOUR OF GOLF COURSE: There is one video online that is perfect for seeing what a golf course and the sets of tees look like. You can stop the video on any hole to watch it more slowly. And it doesn't have sound or music or advertisements: See https://www.youtube.com/watch?v=VAOJTi1lgN0.
Notice that on the video the first pictures show several rectangular tee boxes. And the one more "forward" -- that is closer to the end of the fairway and to the green -- than the other tee boxes is often referred to as the "forward" tee. From the forward tee to the green, the distance is shorter than from the tees farther back. Some people still refer to the forward tees as "women's tees" which is incorrect. Junior golfers use those forward tees as well as new golfers and older golfers. I use them when I want to play the course in a little less time and concentrate on my shots around the green. One important point: The game of golf has the same set of "official" rules regardless of the set of tees are used.
Watch the video and click on the different numbers at the top of the screen to see the different holes. At the lower right of the screen, the distance from each set of tees is given. On this course, the black tees are the longest and green tees are the shortest. (Some courses use different names and colors for their sets of tees.)
For example: Hole 4 is short and holes number 9 and 18 are long. Also notice that the grass is different on the "fairways" – the middle sections of each hole.
Notice that there is "trouble" on the edges of the fairways where trees and long grass are common and referred to as the "rough." And this video shows all the marks made by the mowers and course equipment which you usually don't notice as you play the course.

Back to Lesson #1 -- "Tour of the Golf Course Lesson: Now stand on tee and ask the instructor to explain the "tee-markers" and where you would tee up your ball. Ask the instructor about how high to tee the ball depending on which club you are using. Hopefully you will be able to see the green and the flagstick. But don't hit a ball; continue your tour.
Ask the instructor to drive you to a shorter hole that will usually be a Par-3 and a longer hole which will usually be a Par-5. Your instructor should explain what "par" means and explain why some holes are harder because of "hazards" on the course such as lakes, long grasses, and those sand bunkers. She will explain why those holes are rated as more difficult on the score card. Yes, look at the scorecard and ask questions about it!
Stop at a sand bunker – walk in it and then rake your footprints out. Stop at a green and walk on it. Feel the grass. Find a ball mark left by a thoughtless golfer and fix it properly. By the way, with your knowledge of the course, watching golf tournaments on television will be much more interesting and instructive.
LESSON TWO. LESSON TWO. Find an instructor that you like and understand. (And one that likes you -- not all teachers and students are a good match..) Try a lesson from a golf professional at your local course or driving range. Or sign up for one of the "Get Golf Ready" programs offered by the PGA of America. You might also consider one of many golf schools-- there are many! But don't sign up for a series of lessons until you know you have a good instructor-match. Take a look at the LPGA top teachers at http://www.lpga.com/…/2017-inaugural-list-of-50-best-lpga-t….
One of the best articles about selecting an instructor is by LPGA-instructor, Deb Vangelow. She offers excellent advice in selecting an instructor and managing your expectations. See: https://www.womensgolf.com/golf-instruction. Find an instructor that you like and understand. Take a lesson from a golf professional at your local course or driving range. Or sign up for one of the "Get Golf Ready" programs offered by the PGA of America. One of the best articles about selecting an instructor is by LPGA-instructor, Deb Vangelow. She offers excellent advice in selecting an instructor and managing your expectations. See: https://www.womensgolf.com/golf-instruction
LESSON THREE: From your instructor learn these three basic golf-swing terms: GRIP, STANCE, ALIGNMENT. I guarantee that these terms will come up often in lessons.
Ask the instructor to demonstrate and show you how to grip the club. Not all hands are alike and not all golfers have identical grips. The instructor should help you find your personal and "effective" grip.
Next determine a target out on the range or course and have the instructor help you find your "stance" (how your body is positioned from the angle of your feet, your hips and your shoulders including where your weight is -- front foot or back foot or in the middle).
Finally learn what is meant by "alignment." Are your shoulders and hips positioned so that if you had a great swing, the ball would land where you want it to? And don't hesitate to say that you need some instruction explained again – and even again.
Many golf teachers teach in a "technical" style. For those of us who don't think "technical", I suggest a new book "BE A PLAYER" by the great instructors Pia Nilsson and Lynn Marriott with Susan Reed (Pia and Lynn coached Ariya Jutanugarn to victory at LPGA final tournament - 2017 CME Globe Championship) and use these three concepts: Balance, Tension and Tempo along with the basics of grip, stance and alignment.
LESSON FOUR. Ask the instructor to show you why different clubs have different club heads – and even different shaft lengths. (Golfers are allowed to have fourteen clubs in their bag including the putter – but most golfers won't use them all. It is okay to begin playing golf with just a few clubs. But, make sure you have a putter!)
Ask the instructor to demonstrate his or her swing using different clubs. Of course, it's not likely you will be able to hit as far and as accurately as your instructor, but it's good to know what good swings look like with different clubs. Some instructors resist showing a new student their swing because they fear that it will intimidate a new golfer. I really disagree! We all watch professionals on television and we know that LPGA and PGA Golf instructors and professionals know how to really hit the ball.
In this lesson, in addition to learning to hit the golf ball, you are learning the language of the game of golf and that's important! But, if you don't think you are making good progress, consider trying a different instructor. Consider taking group lessons if offered by your golf course or driving range. As a new golfer, it is perfectly "ok" to change instructors. Professional golfers often change instructors, and so can you.
LESSON FIVE: In addition to personal lessons, watch the teaching videos on the internet. Now that you know about the golf course and have taken a few lessons, you are ready to sort through the dozens of golf lessons online. I like to use Google.com search. For example, I was having a hard time keeping my putter head straight through the ball. So I googled "how to keep putter head straight." There were so many to choose from! And, I found one that I really understood. I am happy to report that its visual imagry clicked with my brain and helped. Just for fun, google "hitting out of sand bunkers" -- many lessons (and not all the same). A new website from the LPGA offers video lessons on https://lpgawomensnetwork.com. Perhaps you want to work on your drive off the tee or how to use a short wedge to hit a ball from off the green and on to the green -- with a little roll to it. And, of course, always watch the putting lessons. Every new golfer can be a "star" on the green!
LESSON SIX: Meet new women golfers because golf is fun to play with others. Check out your area for organizations such as the Executive Women Golfers Association www.ewga.com that offer lessons and a great place to meet new golfers – primarily in the United States. Ask your golf facility or golf range or a Top Golf Facility about local leagues for new golfers. Every good golf facility should have a nine-hole option as well as the usual eighteen-hole ladies day. Some courses call it "Nine is Enough" which provides a good reason to "just play nine." By the way, the USGA Handicap System provides handicaps for golfers who opt for just nine-holes as well as those who play eighteen-holes. Another format I recommend for new golfers and busy women and a great way to make friends is a Three-hole-scramble -- which probably just takes an hour. In a regular scramble, every player hits every shot and the best shot is where the next shot is hit from. And again, all players hit their ball again. Even if you are not the best on the tee, you may be the star on the green. [There is also a "step-aside-scramble" -- the player whose ball was chosen as the best, steps aside and her playing partners hit the next shot. The step-aside scramble even takes less time.] Urge your local golf courses to provide special green fees if you are only going to be on the course for a hour or two.
LESSON SEVEN: Get ready for Women's Golf Day. Check out the courses in your area that are participating in Women's Golf Day www.womensgolfday.com on Tuesday, June 15, 2018. Beginning in Australia and rolling across the world (all at the same local time) are clinics for new golfers and on-course golf opportunities. It's really a big deal!! And, it's not too early to ask your golf facility to save the date and make sure they participate in the June event. The website is terrific and explains everything!
There has never been a better time than now to learn to play golf at a welcoming golf facility. The TV coverage of 2018 LPGA events will be better than ever. Click top tab on left bar for the LPGA 2018 schedule or find it on http://www.lpga.com/news/lpga-announces-2018-season-schedule Take my advice and start at the very beginning with a "Tour of the Course" lesson with the video mentioned above or with a golf instructor or good friend. In six months, you will be a golfer. HAPPY 2018!! "Be Happy, Be Healthy, Live Longer, Play Golf."
---
---
---
Posted December 11, 2017
Lessons Learned Watching Women's 2017 LPGA Golf -- 2018 Will Be Even Better
By Nancy Berkley
As we approach the end of the 2017 and welcome in the New Year, it's a good time to think about New Year's Resolutions. Here are some lessons I learned about playing golf that will make 2018 even better
(1) The final tournament of the 2017 LPGA season – the CME Globe Tour Championship in Naples, Florida – will go down in LPGA history as one of the most dramatic and historic finishes on the Tour with two important "lessons learned."
Lexi Thompson was in fine form and leading on the beautiful Greg Norman Tiburon Course in Naples, Florida. On the eighteenth green she lagged a shot within two feet of the pin leaving a "virtual tap-in" (the words of many announcers) for birdie. The tap-in would surely make her winner of the CME Group Tour Championship. But, Lexi missed the tap-in. (Maybe nerves or maybe just a break in concentration.) On this course and on that day, the missed putt cost Lexi the CME Tournament victory. Lesson Learned: There are no "virtual tap-ins" in tournament play.
(2) Playing two groups behind Lexi at the CME, Ariya Jutanugarn of Thailand was playing very well. With a sense of "calmness" (advice from her new coaches, authors of "Be A Player") she birdied the 17th hole. Now playing the eighteenth hole, Jutanugarn hit her approach shot to within 20 feet of the pin. If she could sink that putt for birdie, she would win the $500,000 first prize – by one stroke over Lexi. And that's just what she did! Lesson Learned: In competition: Stay calm, do not give up, it's not over "until it's over." For more about the drama of this final tournament, read the account by veteran golf writer Ron Sirak at http://www.lpga.com/news/2017-final-round-recap-cme-group-tour-championship.
(3) One of the high points of this 2017 season is about the growth in girls' golf. In my recent interview with LPGA Commissioner Mike Whan at the CME Globe Tournament in Naples, Florida, he related an impressive statistic: Participation in golf by girls is up by ninety percent – yes 90%. (Statisticians point out that the increase may be distorted because it is off a small base.) But, according to the Commissioner, if a girl learns to play golf before she is twelve, she is very likely to be a golfer as an adult. That makes sense to me because I often ask: "How many bikers would there be if no one learned to ride a bike until they were 30?"
A new program "Little Golf Train" developed by my colleague Dr. Patricia Donnelly with (teacher-certification programs) teaches children ages 2-5 with age appropriate games. http://littlegolftrain.com/ Lesson Learned: Don't wait for those teen years to teach golf to children – introduce golf to children when they are very young.
(4) But there are some soft-spots in women's golf. Perhaps they are best described as "Lessons TO BE learned." Women don't speak up enough and sometimes when they do, they are not as effective as they could be. Lesson Learned: Women must be better leaders and change agents. (See two articles "Be a Leader" [on left tab] at http://nancyberkley.com/1755759.html and "Why Women Golfers Must Be Leaders" at https://www.womensgolf.com/women-golfers-leaders/
(5) Another soft spot in women's golf is that many women do not understand the formats used in some competitions. This past 2017 season, the Solheim Cup was so exciting, but the viewer had to understand the match-play format. (Each hole is its own match to win, lose or tie. If a player won the first ten holes, she would win the match. But that seldom happens!!)
This coming season the LPGA Tour will showcase the UL International Crown Tournament, which uses a "Fourball" format (sometimes called "Foursome" foursome) among eight countries of 4-person teams. (The UL International Crown is played in alternate years of the Solheim Cup.)
The UL International Crown will be played in Korea, and eight countries with the top-4 best golfers will compete for the Crown. The country and team selections are based on the Rolex Rankings. It promises to be one of the best tournaments of the season. Lesson Learned: Understanding the format of a tournament makes it much more exciting to watch. Learn about the UL International Crown. at https://www.womensgolf.com/foursomes-fourball/
Now you will be a better "fan" of women's golf and even more important -- you will enjoy playing more golf.
---
---
---
Photo: LPGA Commissioner Mike Whan with Nancy Berkley in the media center at the CME Globe Tour Championship in Naples, Florida, November 2017.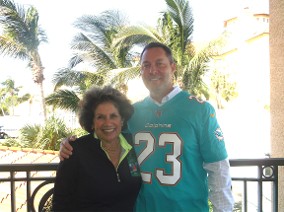 Nancy Berkley is an expert on how to encourage more women and girls to learn and play golf. She wrote "Women's Golf Programs That Work" followed by "Women Welcome Here" for the National Golf Foundation, which were the first books published for the industry about attracting women golfers. Nancy is a member of the World Golf Foundation Women's Committee and a member of the National Golf Foundation. She is a graduate of the University of Minnesota, Harvard University, Rutgers Law School and has a degree from the Professional Management Program of Harvard Business School. See her complete biography on her website at http://nancyberkley.com/676304.html
Nancy is an active golfer at Frenchman's Creek Beach and Country Club, in Palm Beach Gardens Florida, where she plays both social and competitive golf. Her current Handicap Index on the USGA GHIN system is 18.1. Nancy describes herself as a "good bogey golfer with permanent potential." She consistent message is: "Be Happy, Be Healthy, Live Longer, Play Golf."
Nancy shares news about women's golf – along with her opinions on www.nancyberkley.com and www.womensgolfnews.com. Many of her articles also appear on www.womensgolf.com and she has previously published on https://www.gottagogolf.com/. Nancy also offers a "Free Help Line" on her website, where she answers questions from golfers, facility managers and students studying sports marketing.
---
---
---
Posted December 8, 2017
How Women-Friendly Is Your Golf Course? Try This Test!
By Nancy Berkley
It's always a good time to say "Thank You" to the staff at your favorite golf course where you regularly tee-it-up. BUT, is your golf course really as "women-friendly" as it should or could be? I created a little test to determine just how "Women-Friendly" it really is.
Answer these ten questions and then the BONUS questions. Hope your facility earns a 10+. But, if it does not, think about what you and your friends can do about making the experience more women-friendly. And see my article "Be a Leader" [on left tab] for some advice about how best to make it better.
Does your facility? (One point for each "yes")
1. Offer affordable introductory group lessons?
2. Provide clubs at no charge for beginner lessons?
3. Advertise programs and events for women using the word "fun" or "no pressure" or "beginners welcome"?
4. Designate a visible section of the bulletin board (in Pro Shop or Locker Room) to promote women's events and news?
5. Offer written handouts with basic information for new golfers including etiquette and pace of play?
6. Offer on-course playing lessons (or supervised play) for new golfers at affordable prices?
7. Offer 9-hole rounds (or shorter) at 9-hole rates (or less)?
8. Offer a choice of playing formats in leagues and outings for non-competitive women golfers as well as competitive golfers?
9. Provide customer-service training to your employees specifically about women customers?
10. Attractively display women's golf clothes and accessories in a visible portion of the pro shop?
ADD POINTS – maximum 10
DEDUCT 3 points from total if facility does NOT have clean, attractive women's rest rooms both on and off the course.
BONUS!!!! ADD 5 points for Diaper-changing table in men's rest rooms.
HERE'S HOW I GRADE….
8-10 points = definitely "women-friendly" – say "Thank You" to everyone!
5-7 points = barely "women-friendly" – hmmmm? Better read my "Be a Leader" article on left tab
4 or less = a long way to go. Time to change your golf course or help create change
__________________________________________________________________________
Leave a message on Facebook page about this quiz. Where do most facilities excel and where do they fail?
Facebook link at top of website Home Page. Thanks!!
See my full list of Best Practices that make a golf facility more women friendly --click the "Best Practice List" tab
###
---
---
---
Posted November 2017
Nancy's News and Views:
2017 has been a big year for the LPGA and women's golf.
Take a look at the articles I have written for www.womensgolf.com over the last two years. Use the search feature on the site and type "Nancy Berkley".
Because my first career out of college was teaching, I always want readers to "learn" from my articles. Among my favorites are the difference between match-play and stroke-play.
Here are others that you will like and learn from:
https://www.womensgolf.com/at-the-2017-solheim-cup/
https://www.womensgolf.com/solheim-cup-2017/
https://www.womensgolf.com/international-cups/
https://www.womensgolf.com/2015-solheim-cup/
https://www.womensgolf.com/women-business-golf/
https://www.womensgolf.com/lpga-tournament/
"LADIES, START YOUR ENGINES" – THE STORY OF AN INNOVATIVE LPGA TOURNAMENT
Nancy Berkley looks at the new Indy Women in Tech Championship presented by Guggenheim.www.womensgolf.com/lpga-tournament/
https://www.womensgolf.com/solheim-cup-fashions/2017 SOLHEIM CUP FASHIONS: WHO WON?
Nancy Berkley compares team uniforms from this year's Solheim Cup and declares a very slight edge to Team USA | Photos by Ben Harpring
###