ALL ABOUT WOMEN AND GIRLS GOLF -- NEWS, VIEWS AND MY OPINIONS
Nancy Berkley, Berkley Golf Consulting, Inc., President
Author: "Women Welcome Here -- A Guide to Growing Women's Golf" published by the Natioinal Golf Foundation www.ngf.orgc
BE HAPPY, BE HEALTHY. LIVE LONGER, PLAY GOLF™
Did you know that studies have shown that women who play golf live longer? Think about it: Golf is a mind-body exercise (the best kind) as well as providing the physical exercise of walking even when using a cart. Playing golf helps women maintain balance, flexibility and posture. Need proof: Look at the women playing golf at your club. Aren't there some amazing 80-year and 90-year old women? Further evidence: Read "Brain, Heal Thyself" in the February 6, 2015 issue of the Wall Street Journal. Walking two miles a day has shown in studies to prevent dementia, alzheimers and Parkinson's Disease.
---
Thank you, Arnie, for everything you have done for the game of golf. Not just growing the number of golfers, but demonstrating that golf is a game of a lifetime. Like golf, life has its ups and downs. But no one has shown the glory of the game like Arnie did.
Do you know a young golfer? Below is a message I have put on my Facebook. Young golfers may not have ever heard of Arnold Palmer; so, it's up to parents and golf teachers to take a few minutes and talk about Arnie. He is an inspiration for all golfers -- but let's make sure the young ones remember him:
To all parents and golf teachers about Arnie:
If you teach golf to kids or are the parent of a young golfer....be it girl or boy, take a few minutes to talk about Arnold Palmer. Tell them about his unique golf swing...even show them why his swing was different but worked. Tell them why he was so loved by so many and why he was so important. Pick up any newspaper or golf magazine and share it with your future golfers. I call these opportunities "life lessons". Don't miss teaching this one!

Arnold had a unique swing -- some have called it the most efficient golf swing of any player. To see an intereting breakdown and analysis of Arnie's swing along with a comparison to how a rocket is launched, go to
https://www.youtube.com/watch?v=tAciBq1xoOs
---
---
Sign up to receive the www.womensgolf.com Newsletter. Each month I write "Notes from Nancy" as the lead article -- short, timely and always something to think about.
Also on www.womensgolf.com: I couldn't be in Rio so I watched four rounds of the women's Olympic Golf Competition on my television. But the bonus: I was "listening to Annika!" And that inspired me to write: "Do You Agree? Listening to Annika Was a Great Golf Lesson" Yes, lots to learn from Annika!
---
The LPGA moved to Evian France and joined the Ladies European Tour for the final "major" of the season. The Evian Championship September 12-18 at the Evian Resort Golf Club. Last year, Lydia Ko took home first prize. But this year the winner -- by 5 strokes! -- was In Gee Chun of Korea. Visit www.lpga.com to reac more about the tournament. Also as part of the last major of the year and at the conclusion of the Evian, The "Rolex Annika Award is awarded and won by Lydia Ko. [Photo below of the famous 5th hole at the Evian]
---
"Notes from Nancy" -- with a challenge to Augusta National:
Read my August 2016 "Notes from Nancy" posted on www.womensgolf.com , my monthly op-ed "Notes from Nancy". The title: "Women's Golf Returns to the Olympics - Memories, Lessons Learned and a Challenge to Augusta."
At the end of the article I refer to the Drive Chip & Putt that Augusta National hosts for girls and boys, but comment that once the girls become women, they can no longer play and compete at Augusta. Now with the great performances of both men and women in the reintroduction of golf in the Olympic Games, I urge Augusta to open up its course for women's tournaments.
(Interestingly, twenty years ago, when Atlanta hosted the Games, Augusta almost convinced the Olympic Committee to hold an Olympic Golf Competion at Augusta National. Talks broke down in part because of objections to Augusta's membership policies that excluded both blacks and women. But I don't think women's Olympic golf was even on the radar screen back then.)
---
See:
My latest article on www.womensgolf.com. (I couldn't be in Rio so I watched four rounds of the women's Olympic Golf Competition on my television. But the bonus: I was "listening to Annika!" And that inspired me to write:
"Do You Agree? Listening to Annika Was a Great Golf Lesson"
Post your answers on Facebook or Twitter or leave a message on www.womensgolf.com AND -- read to the end of the article for a very touching letter from Annika "To My Daughter".
---
Gold Medal to Inbee Park of Korea - Silver Medal to Lydia Ko of New Zealand - Bronze Medal to Shanshan Feng of China
In the top ten, only Korea had two Olympians.
The procedures for selecting the 60 women golfers who would compete for the medals was based on the Rolex World Rankings as of July 10 (conclusion of the U.S. Women's Open).
In general, the qualification system worked in creating a balanced and competitive field. There will be discussions of whether four days of stroke play is the best format but considering all the controversy about the Road to Rio for golfers, the outcome was dramatic and exciting.
I have had daily Google-alerts on the Zika virus issue for months -- closing those now. My father was right: "Today is the tomorrow you worried about yesterday and it never happened."
I will be writing about women's Olympic golf in my "Notes from Nancy" as a feature of the monthly Newsletter on www.womensgolf.com (go to the site to sign up for the Newsletter). I have some thoughtful observations and some controversial suggestions.
---
HOW DID I DO ON MY OLYMPIC GOLF PREDICTIONS?
Jump down to see my predictions of who would take the medals. I selected 5 players and then when Jutanugarn withdrew, I added Gerina Piller and asked to buy a sixth pick which would have been Stacy Lewis.
How did I do? I picked two of the three: Inbee Park and Lydia Ko. Charley Hull and Brooke Henderson were on my list and both tied for 7th (not bad). But I completely missed the performance Shanshan Feng of China delivered.
How do the players performance compare to their current Rolex World Rankings as of August 15? Lydia Ko is #1, Inbee Park is #5 (but she had not played in several tournaments because of her thumb injury, which reduced her rankings which had been higher) and Feng was #14.
---
Women's Golf Olympics -- True or False? Daily Question:
Round Four (Saturday -- Final Round) True or False? Golf belongs in the Olympic Games.
Answer: True! True! True!
Although there will be discussions of
Round Three (Friday, Aug 19): True or False? The odds of a professional golfer having a hole in one are 5000 to one.
Answer: False. The odds are 2500 to 1. Lydia Ko had her first hole in one today in the 3rd round of the Women's Golf Olympics. Of course she is only 19. But what a boost that gave her not only for her score but for her confidence level. She now sits high on the leaderboard and in position to win a medal for New Zealand. Other news today, Ariya Jutanugarn of Thailand withdrew citing pain in her left knee. A strong professional golfer puts tremendous pressure on the left knee in the follow through (think: Tiger Woods and knee problems). Which is why I don't swing that hard!!!
Round Two (Thursday, Aug 18): True or False? After the second round of the Olympic Women's Golf competion, Thursday, August 18, the top ten women were from 10 different countries
Answer: True. An international Olympic event could not have been better planned to demonstrate how "global" women's golf is and how worthy to be an Olympic sport. Here are the countries represented by the top 10 players on Thursday's second round in order of best scores... so far:
Korea (Ingbee Park -10),
USA (Stacy Lewis -9)
Great Britain/England (Charley Hull) -8
Canada (Brooke Henderson) -8,
Norway (Marianee Skarpnord) -7
Denmark (Nicole Broch Larsen) -7
Taipei (Candie Kung) -7
India (Adit Ashok) -6
Australia (Minjee Lee) -6
Thailand (Ariya Jutanugarn) -6
Note: Number 11 on the list is Korea - In Jee Jung and Number 12 is USA - Gerina Piller: also at -6.
BonusQuestion: Annika had particular advice for one player to practice her chips to the green. Can you guess who that was? Answer tomorrow.
---
Round One: True or False? After the first round of the Olympic Women's Golf competition today August 17, five of the women in the top ten also have a current Rolex Ranking between 1 and 20?
Answer: False. Only 4 of the women in the top 10 today have a Rolex Ranking between 1 and 20. I am using the current, August 15 Rolex Rankings see http://www.rolexrankings.com/en/rankings/2016-08-15/. Here are the 4 women who finished today in the top 20 and their current Rolex Rankings: They are Ariya Jutanugarn Rolex ranked #2, Inbee Park Rolex ranked #5, Seiyoung Kim - Rolex ranked #6 and Lexi Thompson Rolex- ranked #4. So what does this mean? Lydia Ko, ranked number 1 finished today tied with eight other women scoring 69 Ko admitted she was nervous on the first tee.
But even more surprising is that a young golfer, Aditi Ashok, from India finished tied for 7th (with a score of 68) has a Rolex Ranking of #462. And... her father is her caddie.
Was today just very, very unusual? Is the first round not a good predictor of the scores over four days of competition? Let's see what happens on day 2.
See who I have selected as my top picks for Olympic golf medals below.
---
TV COVERAGE OF MEN'S & WOMEN'S GOLF OLYMPICS: NBC and the Golf Channel will feature more than 130 live hours of programming of the 2016 Rio Olympic Games. All four rounds of both men's and women's will be covered Eastern US time 6:30 am to 3 pm preceded by wraparound news coverage prior to and following the round. My advice: Tape the coverage on your TV. In addition, All Olympic competition, including golf, will be live streamed on NBCOlympics.com, the Golf Live Extra App, the NBC Sports App, NBC Sports on AppleTV, ROKU and Amazon Fire Here's the course designed by Gil Hanse and Amy Alcott
---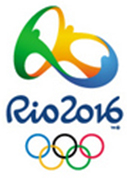 ROAD TO RIO
Women's Golf Olympic Competition -- August 17-21 (Wednesday through final round on Saturday)
Everything you need to know! [this is also on the "Rio Olympics" tab on left]
10 Questions... and Answers:
1. What determines what golfers compete in the Olympics? The International Olympic Committee (IOC) approves which sports are included in the Olympics. Once approved, each sport has its own committee that determines the rules for its competition. For golf, it's the International Golf Federation (IGF). It has been over 100 years since golf was included in the Olympic Games, so the IGF was writing on a clean slate – setting the rules that hopefully will establish golf as an Olympic sport for years to come.
2. How does a golfer qualify for the Olympics? Qualification for women is based on a "performance-point" system managed and maintained by the famous Rolex watch company. The Rolex Women's World Golf Rankings www.rolexrankings.com tracks and ranks the performance of female golfers in eight global tours over a two-year period. The two-year period for determining the highest ranked women golfers ended at the conclusion of the U.S. Women's Open on July 11, 2016. Not all tours are considered equally competitive and the Rolex Rankings are adjusted for factors such as the strength of the field. For more details, check out the frequently asked questions on http://www.rolexrankings.com/en/faq/.
3. Why are there only 60 women golfers competing and how was the format determined? With many Olympic sports competing for time and TV coverage, both the format and the number of golfers was based on practical considerations. The IOC determined that 60 female golfers (and 60 male golfers) would provide a practical schedule. The IGF determined that four days of competition – using the basic cumulative "stroke play" format – was a good place to start. This is the format for most major golf tournaments and so it will be familiar to viewers.
4. How are the top 60 golfers determined? There were two main objectives: The IGF wanted the top golfers to compete, but they also wanted as many countries as possible competing. It's important to remember that the Olympic competition is not a team competition. It is about an outstanding athlete bringing a medal home to their country.
The solution the IGF reached accomplishes both objectives. It insures that the world's top women golfers will be in the competition but also that as many countries as possible will also be competing. Here's how the 60 golfers are determined: If a country has at least four players ranked in the "Top 15" of the Rolex Rankings, that country could have up to four players. For players ranked 16 and higher, a country could only have two players. And here's how it turned out: Korea has four players in the top 15. And the U.S. has three players in the top 15. That left room for 53 other players to bring the total field up to 60. As it turns out – based on the Rolex Rankings and in the list below – there are women golfers from 32 other countries in addition to Korea and the United States.
5.What happens if a player becomes ill or withdraws? This question became especially important because of the Zika virus threat – which according to latest reports is no longer a major problem in Brazil. But it may be relevant to Inbee Park of Korea who has not played in several tournaments this season because of a thumb injury. She hopes to compete in the Olympics, but what if she cannot? How is her replacement selected? It's all been determined by the International Golf Federation See www.igfgolf.org and the "Reserve List". Every player for every country has 5 designated replacements in the order of 1-5.
6. What if a golfer had dual citizenship? What country do they represent? For example, Guila Molinaro – who will compete for Italy – was born in Italy and raised in Kenya but carries an Italian Passport. Stephanie Meadow is a citizen of both Ireland and the U.S. She has chosen to represent Ireland and will be in the Olympic competition.
Here's the pertinent excerpt from the International Golf Federation Nationality Policy: "A competitor will be considered a National of a country if the competitor is a citizen of the country, as defined by the laws of such country. A competitor who is a National of two or more countries at the same time may represent either one of them, as the competitor may elect. However, after having represented one country in an International Golf Competition, the competitor may not represent another country unless first meeting the conditions … that apply to persons who have changed their nationality or acquired a new nationality."
7. How hard is the new Olympic Golf Course? The Barra da Tijuca course in Rio was built and designed just for these Olympic Games by the golf course architect, Gil Hanse –in collaboration with LPGA Hall of Famer Amy Alcott. The course was designed to enhance the native environment and interestingly, Hanse used Scottish links design for inspiration. (Yes, they both share flat terrain, sand, salt and water!) The women's yardage is 6,245 yards with many bunkers and greens designed for challenging and strategic approaches. I think it will be very challenging. For a hole-by-hole description, see http://www.igfgolf.org/olympic-games/olympic-venue/hole-by-hole-course-guide/explanations. Just click on a hole and read the short description and you will be well prepared for the challenging competition you will see. And there are native animals including rodents, monkeys, owls and even crocodiles that inhabit the environmentally protected areas that are an environmental feature of the course.
8. What is the format for the four days of competition? The Olympic golf format is very straight-forward. The IGF decided to keep it simple: It is four rounds of stroke play with cumulative scoring. The three golfers with the lowest 4-round total scores will take home to their country an Olympic medal! For more information see: http://www.igfgolf.org/olympic-games/format/
---
9. What 34 countries and the 60 golfers will be competing for Olympic medals in golf competition at the Barra da Tijuca course in Rio? (This section was updated on August 8 to correct some spelling errors and updates) Because in my view the Olympics are all about representing your country, I have listed the women Olympians by country – rather than by their Rolex Rankings -- as of August 1. To see the list according to Rolex Rankings, see http://www.igfgolf.org/olympic-games/qualification-system/ogr-women/ or http://www.rolexrankings.com/en/rankings/.
Please read the note at the end of the list which explains why a player with a very high Rolex Ranking will still be an Olympian and has a chance to bring home a medal to her country.
As reported by the International Golf Federation as of August 1:
Korea - Inbee Park, Sei Young Kim, Amy Yang, In Gee Chun
USA - Lexi Thompson, Stacy Lewis, Gerina Piller
Canada - Brooke M. Henderson, Alena Sharp
China - Shanshan Feng, Xiyu Lin
Australia - Minjee Lee, Su-Hyun Oh
Sweden - Anna Nordqvist, Pernilla Lindberg
Norway - Suzann Pettersen, Marianne Skarpnord
Taipei - Teresa Lu, Candie Kung
Japan - Harukyo Nomura, Shiho Oyamo
Great Britain - Charley Hull, Catriona Matthew -- (Note: Great Britain includes Northern Ireland, Wales and Scotland)
Thailand - Arlya Jutanugarn, Pornanong Phatlum
Rep S.Africa - Paula Reto, Ashleigh Simon
Spain - Carlota Ciganda, Azahara Munoz
France - Karine Icher, Gladys Nocera
Germany - Sandra Gal, Caroline Masson
Denmark - Nicole Broch Larsen, Nanna Koerstz Madsen
Finland - Ursula Wickstrom, Noora Tamminen
Italy - Guila Molinaro, Giulia Sergas
Ireland - Leona Maquire, Stephanie Meadow
Mexico - Gaby Lopez, Avejandra Llaneza
Switzerland - Albane Valenzuela, Fabrienne In-Albon
Malaysia - Kelly Tan, Michelle Koh
Brazil – Miriam Nagi, Victoria Lovelady (Brazil, the home country of the Olympics, was guaranteed at least one place)
New Zealand, - Lydia Ko (ranked #1 in Rolex Rankings)
Colombia - Mariajo Uribe
Paraguay - Julieta Granada
Israel - Laetitia Beck
Czechoslovakia - Klara Spilkova
Russia - Maria Verchenova
Belgium - Chloe Leurquin
Austria - Christine Wolf
India – Aditi Asshok
Hong Kong - Tiffany Chan
Morocco - Maha Haddioui (ranked #540 in Rolex Rankings)
Note: The rules set forth by the International Golf Federation stipulate that a country may enter only two players except a country with more than 2 players in the top 15 of the Rolex World Rankings, may enter up to four players in the Olympics. In this Olympics, Korea has four players in the top 15 and the USA has three – reflected in the list above.
The effect of this 2-golfers-per-country rule is that stronger players are eliminated from the competition in order to insure that as many countries as possible are represented. For example as of the August 1 rankings, Spain's Carlota Ciganda and Azahara Munoz are ranked #40 and #46, respectively. Spain could not enter any more players. But the flip side of the policy is that golfers from countries with little international exposure will be seen on the Olympic golf course such as Aditi Ashok from India (ranked #456) and Maha Haddioui (ranked #540) from Morocco. And, as golfers we know that the best golfer can have a bad day while a lesser golfer can have the round of her life. So, expect some surprises on this new Olympic golf course that according to architect Gil Hanse is inspired by Scottish links golf.
For a complete list of over 1,000 women golfers in the order of their Rolex World Rankings see http://www.rolexrankings.com/en/rankings/. The rankings are updated weekly.
______________
QUESTION #10. WHO WILL TAKE HOME THE MEDALS? I think that three of the following women will take home an Olympic medal. UPDATE: NOW THAT JUTANUGARN DROPPED OUT DUE TO KNEE PROBLEMS, I AM ADDING GERINA PILLER (USA) TO THE LIST.
Lydia Ko (New Zealand), Lexi Thompson (USA), Ariya Jutanugarn (Thailand), Charley Hull (Great Britain), Brooke Henderson (Canada). Glad to see Inbee Park (Korea) returning to Olympics; if her thumb is all healed, she is in the running. And adding Gerina Piller as a sub for Airya Jutanugarn who withdrew (how was I supposed to know her knee was bothering her?).
____________________
MEN'S OLYMPIC MEDALISTS WERE : Gold to Justin Rose of Great Britain (Great Britain includes England, Scotland, Wales and Northern Ireland); Silver to Sweden's Henrik Stenson ; and Bronze to Matt Kuchar of the USA who claimed the lowest round of 63 on the final day . Matt Kuchar in a New York Times article on Monday was quoted "I've never been so happy with a third place finish in my life." But... I have some comments about NBC Coverage of Olympic Golf (it's on my Facebook (click icon above) and copied below:
In my opinion..... NBC Golf Channel Olympic GOLF Coverage not "viewer-friendly" for men's Olympics. (So far... NBC doing a better job for the women's Olympic golfers).
NBC Golf Channel decided TV Olympic golf coverage was "business as usual". What a mistake! With 60 golfers from 34 countries, most viewers will not recognize many players. Nor will they know the country abbreviations -- like "GBR" is "Great Britain" -- England, Wales and Scotland. Most viewers won't know where many countries are... how about a map every now and then??
Most viewers will not sit for 4 hours to watch Olympic golf -- they will come and go. If a viewer checks in to the matches on TV from time to time, they will see a golfer ... or two... but won't know what's going on. No leaderboards on the TV screen, infrequent updates, few personal insights... boring ... boring. (except for "golf groupies" like myself.). Maybe by next Wednesday when the women's Olympic golf competition begins, someone will remedy these oversights and bring some insights and excitement to the Olympic competition. Stay tuned... check for TV coverage and streaming.
Do you have any more questions? Just click on the Facebook icon at the top of the page and ask away. Please post this article and list in your women's locker room and share with your friends on Facebook and Twitter.
---
---
From www.womensgolf.com "Notes form Nancy" July Newsletter - Golf Quiz
"Notes from Nancy's Golf Quiz - 7 True/False Questions
Here we go. TRUE OR FALSE?
1. The U.S. Women's Open, July 4-10 in California, is just for professional women golfers.
2. If you regularly only play nine holes of golf, it is very difficult to improve your game.
3. Most golfers do not follow the USGA official "lost ball" rule.
4. The LPGA International Crown tournament among golfers from 8 countries is named in honor of the Queen of England.
5. The Ricoh Women's British Open (July 25-31 about one hour north of London) is the only "Major" LPGA tournament outside of the United States.
6. The "Race to the CME Globe" is a brand new tournament on the LPGA Tour this season.
7. The "Road to Rio" has some mosquitoes on it that are causing problems for some Olympians.
The Answers:
1. FALSE. The U.S. women's Open is open to both amateur and professional golfers. In fact, in the upcoming Open, July 7-10, there are 25 amateurs in the opening round of 156 entrants! There also are no restrictions on the country that a golfer is from. But there is one important caveat: She must have a USGA Handicap Index of 2.4 or less, which is pretty close to par on every hole! Some golfers – are "exempt" from qualifying for the Open because of previous top performances in other tournaments. But if not exempt, a golfer – including amateurs – may try to qualify in one of the 25 sectional qualifiers in the U.S. as well as in England, China, Japan and Korea. About one/third of the field in the upcoming Open will have won a spot through a sectional qualifier.
2. FALSE. It's about time we get rid of the 9-hole reputation as just being for old people or poor golfers. How about nine holes for busy people? The USGA has just embarked on a campaign "Let's Play Nine". [HERE IS A GREAT VIDEO – SEE IF YOU CAN LOAD IT IN (OTHERS ALSO ON USGA) http://www.usga.org/videos/2016/05/09/play9--get-out-and-play--4885186761001.html Many golf instructors confirm that nine holes Is just fine for improving your game. And, nine-hole scores can be used to establish an official golf handicap.
3. TRUE. The USGA Rules of Golf (January 2016 edition) Rule 27-1.a. is very short and clear on this point: "At any time, a player may, under penalty of one stroke, play a ball as nearly as possible at the spot from which the original ball was last played…" Here's an example: Let's say I hit a long drive but off to the right. I think it's safe but when I get there I find lots of tall grass and can't find my ball -- sound familiar? According to the rules, I should go back to the tee and re-hit. But, the problem is that going back to where I last hit from (especially if there are golfers on the tee) slows the game down. No one wants to do that. So many times, a golfer will just drop a new ball about where the first became lost and take a one-shot penalty. My suggestion is that if you are going to just re-drop a new ball, take a 2-shot penalty. That's a more probable score. However, if you are playing in a serious, competitive match, you must play by the rules and take the stroke and distance penalty. And, this is a good time to make sure you understand Rule 27-2 about hitting a "provisional ball."
4. FALSE. The International Crown Tournament – played in alternate years – has absolutely nothing to do with the Queen of England or even Princess Kate. The name and concept of this tournament comes directly from LPGA Commissioner, Mike Whan, who wanted a tournament that has "meaning." This tournament is about team competition among countries with the best golfers. See my interview with the Commissioner at https://www.womensgolf.com/mike-whan-nancy-berkley-2/ . The second International Crown tournament is coming up soon: July 18-24 at the Merit Club just outside Chicago. The 4-person teams that will be competing are from: Korea, Japan, Chinese Taipei, Australia, England, China and the US. The Crown is a match-play format so you will be ready for next year's Solheim Cup – also exciting match play. See https://www.womensgolf.com/lpga-international-crown-rio-olympics/
5. FALSE. In addition to the RICOH British Open a "major" on the LPGA Tour, the Evian Championship in France in mid September is also a major on the LPGA Tour. The LPGA Tour has five majors in its current season. What makes a "major?" The answer is good prize money, a particularly good field of players, increased points on Rolex Rankings and more points for the Race to the CME Group Tour Championship. The LPGA Tour has had two "majors" so far this season: The ANA Inspiration and the KPMG PGA Championship. Next is the U.S. Women's Open with the biggest purse of all -- $4 million. And, then the RICOH Women's British Open at the end of July and the Evian Championship in Evian les Bains, France in mid-September.
6. FALSE. The Race to the CME Globe is an LPGA Tour season-long points race. The CME Group is a financial securities corporation based in Chicago with world-wide operations. The CME Group has been a key supporter of the LPGA Tour since 2011. As the season moves along and the "majors" and the Olympics are behind us, expect to see and hear more about the CME Group Tour Championship in Naples, Florida at the end of November. A special tab on the LPGA.com website explains it all: http://www.lpga.com/race-to-cme-globe
7. TRUE. That Zika mosquito is a dangerous one IF you are pregnant or thinking of becoming pregnant in the near future. The World Health Organization and the International Olympic Committee express confidence, however, that Rio's cooler climate in August in addition to the insect-control-spraying PLUS common sense precautions should not keep athletes or visitors away. But several top golfers from several countries have announced that they will not participate in the Olympics. The LPGA has stated that the decision whether or not to participate in the Olympics is a very personal decision that should not be questioned. One of the problems is that there does not seem to be firm evidence as to how long the virus stays in a person's body. In addition, apparently it is not easy to test and determine if you have or have had the virus. Accordingly, the Center for Disease Control (the CDC) suggests to wait until 6 months after having the Zika virus to become pregnant – this advice applies to the future moms and dads because the virus can be transmitted sexually by both females and males. For all those unmarried Olympians and tourists in Rio, I support "full disclosure." My suggestion is a souvenir tattoo that says "I have been to Rio" – a tattoo that fades away in six months. Problem solved!! Let the games begin!!!
________________
How did you do?
Tweet or Facebook your results or opinons using links at top of this page -- or tweet @womensgolf or facebook to @womensgolfdotcom. OR visit www.womensgolf.com and remember to register for the monthly Newsletter
---
Newsletter "Notes from Nancy" -- Read the latest Newsletter from www.womensgolf.com published end of July [click on the Newsletter tab on womensgolf.com] which includes my "Notes from Nancy". Register on the site to get the monthly Newsletter or find the Newsletter tab on the website and read them all!! It's a chance for me to review not just what's happening in women's golf, but my opinions as well.
If you like newsletters, I also recommend these:
1. To understand more about golf in other countries especially Europe, see www.ladieseuropeantour.com. I like the way this site is organized and that it includes women we see on the LPGA Tour often but play also on European and Asian Tours. The Solheim Cup Team Europe is sponsored by the Ladies Euroean Tour.
2. To view top articles for women golfers of all skills and interests, see the World Golf Foundation-sponsored www.golfforher.com.
3. Always check www.lpga.com. The site is increasingly well organized. Check the "News" tab and see articles from @AmyRogers -- one of my favorite writers for the LPGA. And here is where you will find everything about the wonderful LPGA USGA Girls Golf program.
---
Congratulations to Brooke Henderson of Canada for her win at the KPMG PGA Championship June 12, 2016 at the Sahalee Country Club setting a record for the youngest player to ever win a "Major" on the LPGA Tour. See the tab HISTORY TIMELINE for the women who have made history in the game of golf -- beginning with Mary Queen of Scots.
"In My Opinion" -- Why Seattle for the KPMG PGA Championship is Bitter-sweet for me? All about gender discrimination in the world of golf and especially in the state of Washington. by Nancy Berkley (posted on Facebook June 5, 2016)
Why Seattle, Washington and the Sahalee Country Club for the KPMG PGA Championship June 6-12 ? First it's a nationally recognized championship course at a private 27-hole golf club. A PGA Tour event has been held there and several USGA amateur competitons. The course is unlike most we see on the Tours. This is traditional northwest golf course architecture with tree lined fairways that will challenge players used to wide, rolling and open fairways.
But the real answer about "Why Seattle?" lies in the fit between the mission of KPMG, a world-recognized accounting and consulting firm that has a large European golf consulting division, and KPMG's advocacy for women in leadership positions. Here are just a few of the big corporations in Seattle: Microsoft, Costco, Starbucks, Amazon and Boeing. Plus law firms and tech companies -- all with women in leadership positions.
But for me, selecting a course in the state of Washington is bitter-sweet. The first U.S. Women's Open -- organized in 1946 by the great LPGA Founder Patty Berg -- was at the Spokane Country Club in Spokane, Washington on the eastern edge of the state.
The 117-year old Spokane Country Club was the subject of a multi-year, complicated gender-based lawsuit. Four female members successfully convinced a jury in 2013 that the Club was a public club and that under Washington state discrimination law, gender-based tournaments and separate women's and men's member-guest days denied women full enjoyment of the club and golf course. I was an expert witness on behalf of the Spokane Country Club. I felt a part of women's golf history as I sat reviewing materials in the club's "Patty Berg Conference Room."
The Spokane Country Club faced with the jury's decision and large legal bills filed for bankruptcy. In September 2015, the Bankruptcy Court agreed to the sale of the Spokane Country Club to the Kalispel Tribe of Indians,. Spokane Country Club is now the public Kalispal Golf and Country Club. Of course, it is still a beautiful course in the style of many courses in northwestern U.S.
But I can't help noting some irony: KPMG is conducting a women's leadership conference in Seattle in conjunction with a women's golf tournament. And on the other side of the state, a jury decided that gender-based golf tee times and tournaments at a "public" golf club do not comport with the discrimination laws of the state of Washington. The legal issues defining gender "comparability" and "equality" are not easy ones in the context of deciding what is a public facility and what is a private facility.
I hope that KPMG continues to encourage women's to become leaders not only in corporate boardrooms but in the governing bodies of all golf facilities. Thank you, KPMG, for reminding us of our role, ability and responsibility to future generations of women golfers.
---
See my "Notes from Nancy" in the May Newsletter on www.womensgolf.com . You will love the opening photo in my Note: "Do You Have to Be Young to Play Golf?" and wonder if you can guess who it is. (Thanks to the LPGA for a great photo treat!) Check "Contributors" tab for articles from many excellent articles of interest to women.
Womensgolf.com is a go-to website for information about all topics of interest to women golfers and junior golfers with expert contributors on all topics including excellent instruction for all ages -- beginning with the little ones. Flattered to be among the contributors and a big thank you to the site for the opportunity to share "opinions" and not just repeat the news.
---
---
NEWS TREND: WILL MEN AND WOMEN PLAY TOGETHER? COMPETE TOGETHER? BE ON TV AT THE SAME TIME?
In April 2016, the LPGA Tour and the PGA Tour announced that they have formed a strategic alliance. What that means is not spelled out... yet. But, I am always in favor of all positive cooperative efforts in the U.S. golf industry. History will probably show that the Alliance was made possible by two very positive and forward thinking leaders: Mike Whan, the Commissioner of the LPGA Tour, and Tim Finchem, the Commissioner of the PGA Tour.
And, this past weekend ending May 8, 2016, the Ladies European Tour and the European Men's Tour played in Morocco on the same venue (two different courses) at the same time. That's history-making!
Both tournaments on TV at the same time is important because it informs "fans" how male and female golfers are different and similar; how courses for female and male golfers are set up differently and it publicizes in a way that cannot be missed that golf is a game for both women and men. Not living in Europe (or Morocco), please anyone send a note to my facebook account or tweet how the tournament went over.
YES... HEARD FROM A READER AND LEARNED ABOUT A TOURNAMENT IN AUSTRALIA ... THE VICTORIAN OPEN WHICH HOLDS A MEN'S AND WOMEN'S CHAMPIONSHIP. IT IS HELD IN MELBOURNE AUSTRALIA. THE MEN'S AND WOMEN'S FOURSOMES ALTERNATE ON THE COURSE; SO GET TO WATCH THEM BOTH FROM YOUR SAME SPOT IN THE GALLERY. (AND GUESS WHAT? THE WOMEN DON'T HOLD UP THE COURSE!).
The closest we have come in the U.S. was having the USGA Men's and Women's Opens held on the same course -- one week after the other. But because the USGA schedules its tournaments years ahead, we will have to wait to see how this plays out in the U.S. with the USGA and with the new alliance between the LPGA Tour and the PGA Tour.
---
UNDER ARMOUR -- no longer a favorite! Yes, Under Armour is the brand logo on Jordan Spieth's golf shirt. I was impressed to see a line of women's Under Armour golf clothing at the 2014 Las Vegas PGA Golf Merchandise Show. You can see it in the "PGA Las Vegas" tab on the left. But never saw women's golf clothes from Under Armour again and never have seen their logo worn by a women Tour golfer. It is not for lack of funds that Under Armour shuns women's golf. The company just announced in late May a $280 MILLION DOLLAR sponsorship deal with UCLA men's football. It's a contest between Nike and Adidas and now Under Armour for the men's sports market especially shoes. But, Under Armour would have been a great sponsor for one of the women's Tour events -- since women make about 90% of a families purchases and since Under Armour brands clothes of kids as well as adults. Well, you know what brand I will avoid buying!! And parents remember: Golfers don't get concussions!!
---

IS JUNIOR GOLF REALLY GOOD FOR KIDS?
See the two different paths that junior-golf is taking. What's right for your young golfer? Read my opinion on
https://www.womensgolf.com/is-junior-golf-good-for-kids/
If you have a talented young golfer, registration is now open for the Drive,Chip & Putt local qualifying competitions in the U.S.
https://www.drivechipandputt.com/find-a-competition
Always a big "thank you" to owners and managers of www.womensgolf.com for the opportunity to do opinion pieces. And another big "thank you" to the the USGA LPGA Girls Golf program www.girlsgolf.org for leading me to the top girls-golf instructors for their views about how to teach kids. Watch for more -- including advice for parents. And look for the newest teaching program: The Little Golf Train www.littlegolftrain.com. The Little Golf Train has certificiation program for teaching kids beginning at age 2.
---
IN MY OPINION:
What Happened to Jordan Spieth at the 2016 Masters?
Even though this is a "women's golf" site. both women and men follow similar guidelines in competitive, professional and even recreational golf. Take a look at an article on www.womensgolf.com "How to Coach for Match Play Golf" that I wrote with the help of Dr. Pat Donnelly.
https://www.womensgolf.com/coaching-match-play-golf/
Pat Donnelly's advice has a bearing on Sunday at the Masters. Jordan Spieth was having some swing problems which is why his instructor returned to Augusta on Saturday. But, when insecurity strikes, no lead is good enough -- not even five strokes after the front nine on the final round.
After a couple of missed shots on the 10th and 11th, Spieth moved to a match-play aggressive "beat my competitor" mode on the 12th rather than playing what Dr. Donnelly describes as playing against "old man par."
On the 12th hole, after a poor drive into the water, Jordan made an aggressive match-play-type decision. He took a risky shot to the green rather than playing from the drop-zone against "old man par". The results were worse.
I don't think it is correct to say that Spieth "collapsed". I think a better description is that he mistakenly changed his competition gears for a couple of holes. But, I am sure we will see many Spieth victories in the future!
---
Congratulations to Danny Willett of England who plays on the European Tour. And as I had predicted prior to the Masters, this 2016 Masters was going to be more global -- a competition of players from more countries than ever before. We are warming up for the Olympics.
---
2017 DRIVE CHIP AND PUTT COMPETITION: LOCAL AND REGIONAL QUALIFIERS BEGINNING.
See https://www.drivechipandputt.com/fin-a-competition
---
FROM THE 2016 DRIVE CHIP AND PUTT COMPETITION: ABOUT ANGELINA TOLENTINO, AGE 9.
Eighty junior golfers representing 30 U.S. states and two Canadian provinces earned an invitation to Augusta National Golf Club to compete in the third annual Drive, Chip and Putt Championship National Finals, which were played on Sunday, April 3, 2016, prior to the start of the Masters Tournament.
Angelina Tolentino, age 9 from New Jersey, competed on Sunday April 3 at Augusta National in the Drive, Chip and Putt National Finals. What does it take to be this good? It takes natural talent, a supportive family and professional guidance. Angelina has been under the watchful eyes of a training institute -- the Golf Performance Institute -- who helps Angelina develop both her physical and mental skills. Watch for my follow-up article about Angelina after Sunday's finals based on interviews with her along with my observations about girls golf on www.womensgolf.com. P.S. Angelina, I like your putting advice, "Keep your head still until you hear the drop." Never too old to learn from such a talented nine-year old! TO SEE ANGELINAS SWING, CHECK MY FACEBOOK PAGE.
How did she do? Pretty good in my opinion. After hitting her two drives Out of Bounds, she recovered and did really well on the chip and putt. She sent me a video after the competition and like all good competitors, she focused on her good shots and her recovery from not meeting her expectations. Watch for my longer article about Angelina and girls junior golf. Is all this competition too much for children. For information about qualifying for the 2017 Drive Chip and Putt, check www.usga.com
---
Watch the 2016 LPGA Season on TV! go to www.lpga.com and click on the Tournaments Tab
The 2016 LPGA Season coming up is the strongest season in years – many years! More tournaments, more prize money and performances will determine who goes to the Rio Olympics, who plays in the LPGA International Crown and who competes in the "Road to the the CME" and the season's concluding CME Tour Championship
To follow the season, go to http://www.lpga.com and go to the "Tournaments" tab. Check out when it is televised in your area and if necessary, tape it. Follow the results on LPGA.com. While you are there, hit the "Download Schedule" under the Tournament bar and you will be able to put the season dates directly into your calendars – such as Outlook.
---
The LPGA Tour and the PGA Tour have formed a strategic alliance. What that means is not spelled out... yet. But, I am always in favor of all positive cooperative efforts in the U.S. golf industry. History will probably show that the Alliance was made possible by two very positive and forward thinking leaders: Mike Whan, the Commissioner of the LPGA Tour, and Tim Finchem, the Commissioner of the PGA Tour. Watch for more to follow on www.womensgolf.com and sign up for their Newsletter which will include my thoughts on the new Alliance.
---
In March 2016, The National Golf Foundation in Jupiter, FL, released the number of golfers in the U.S. for the year 2015.
The total number of golfers is slightly down, but the number of golfers trying the game for the first time is up. The bad news is that beginners are not staying with the game. Why this should surprise anyone baffles me.
I have been reporting and speaking about what I think is the problem. And that is that the "Gatekeepers" of the game -- the people that let you in the golf course and manage your experience -- just are not doing their job. And sorry to say, that job is almost exclusively managed by The PGA of America. I refer to The PGA of America as the gatekeepers of the game. I delivered a presentation to the Carolinas PGA Chapters where I spelled it all out... see the Tab on the left bottom titled "CPGA Seminar." I have a "Best Practice List" (see Tab on left) that was created primarily to help male PGA Professionals understand what a real "welcome" is for women golfers.. especially new golfers. I have just rewritten the intro to the Best Practices because they apply to ALL golfers whether men or women or young or old. Pete Bevacqua, the CEO of the PGA of America was just re-upted for a new term. He has a very important challenge to inspire and teach his Gatekeepers to put out the welcome mat and to be measured by how many new golfers they keep coming back! See the Wall Street Journal, Tuesday, March 8, 2016 for their article "How Golf Is Failing Its Beginners." Watch for my updates from the National Golf Foundation on the numbers.
---
The 7 Newest Trends for Women Golfers -- Observations from the PGA Merchandise Show January 2016:
I was at the PGA Merchandise Show in Orlando, Florida January 26-29, 2016 where hundreds of manufacturers of products for the golf industry show their products to the representatives from golf facilities from around the world. I spotted 7 Trends that will make a difference to women golfers. Read about them in the February Newsletter on www.womensgolf.com or on Nancy Berkley Facebook pages. Here's my summary
Golf Industry Trends for 2016 – Nancy Berkley
Trend #1 – The game of golf is in an "up-tick" mode. There was more energy in the air at this year's show than in any in the past few years. The U.S. and world stock market may be having jitters, but golf offers relaxation, distraction and fun.
Trend #2 – More equipment manufacturers are paying more attention to women golfers. Callaway announced at a breakfast for women leaders in the industry that it was very serious about womens golf. Callaway introduced a new line for women golfers developed with technology from the Boeing company. NOTE: February 6, 2016, Diana M. Murphy of St. Simons Island, Ga. is elected to serve a one-year term as the 64th president of the United States Golf Association (the USGA). She is the second woman in the USGA's 121-year history to serve as president, following Judy Bell, who was president in 1996 and 1997. The USGA together with the Royal and Ancient (the R&A) in Scotland governs the game of golf worldwide. For a full history of womens golf see my HISTORY TIME LINE on side bar.
Trend #3 – More manufacturers are paying more attention to junior golfers. [U.S. Kids, Garb]. The age of junior golfers is getting younger. Top teachers of junior golf now including those on the top U.S. Kids Teachers List introduce it at the age of three. The Little Golf T.R.A.I.N. introduces golf to 2 year-olds. But the emphasis is on fun -- not performance.
Trend #4 – Women's golf clothes are more beautiful than ever. Watch for ruffles, lace and matching patterned tops and bottoms. My favorite is the new PUMA line for women. PUMA moved its women's clothing design division from the east coast to the west coast -- and what a difference. Look for PUMA's tights with matching skorts, News: they have them as of May 2016/ beautiful sleeve detail on women's shirts and skirts and bottoms in same pattern offering the slimness and style of golf dresses (without the "dress" part).
Trend #5 – Women's traditional golf attire is incorporating fitness attire. It's not only fitness fabrics but a serious introduction of tights with skorts. The U.S. Solheim Cup team with its stars and stripes tights was the tipping point. Smart golf facilities will have to rethink their women's "dress-codes". [News! Did you watch the KPMG PGA Championship in Seattle, WA June 9-12 and did you see how many golfers were wearing tights (or leggings)? The weather was cool and many golfers chose tights -- which now are "golf attire" and sold in many golf shops. Adidas just released in late February its designs for US Olympic teams and guess what?.... there is a ladies sleeve-less shirt with no collar. That is non-traditional attire... just as I predicted... and on the world stage.J More News: I just bought a PUMA skort with attached tights -- this is golf attire and comforms to the LPGA Tour Dress Code. IF ONLY OUR GOLF COURSES LET US (REGULAR GOLFERS!) WEAR WHAT THE PROFESSIONAL WOMEN GOLFERS WEAR, IT WOULD BE A MOVE IN THE RIGHT DIRECTION!!
Trend #6 – Women in business are more strongly promoting women's golf as a success strategy. And outstanding Center Stage Panel confirming that more women are using more golf as part of their business strategy. Watch for the KPMG Women's PGA Championship, June 6-12 with a centerstage Women's Forum for women business leaders.
Trend #7 – More global golf travel. Booths from Ireland, Mexico and Turkey to name a few and great luxurious vans for group-travel. I'm keeping my golf suitcase and clubs packed.
---
STAY UP TO DATE ON WOMENS GOLF WITH FREE NEWSLETTERS:
For a good update on womens golf (published every few weeks), sign up for the free Newsletter on www.womensgolf.com which includes original material written just for the Newsletter. It includes my "Notes from Nancy" -- a short op-ed paragraph or two about something of interest to female golfers. The next womensgolf.com newsletter in early February will include my Notes from the PGA Merchandise Show in Orlando Florida and what I think are the products and trends in women's golf. Womensgolf.com is the most read on-line golf magazine for women with an excellent and varied group of contributors covering a broad range of topics for and about women and girls interested in golf.
Another free newsletter that comes out weekly is available on www.golfforher.com a website developed by the Women's Committee of the World Golf Founation (of which I am a member). The Newsletter provides a selection of recent popular articles from the site. The site is organized for golfers of different skills and interets such as a "New to Golf" section.
And another newsletter I like is published by the Ladies European Tour (LET) see: www.ladieseuropeantour.com
The Rolex Rankings which are key to who plays in the Olympics, gather placement statistics from many different women's tours... including those in Europe organized by the LET and those in Asia. Many women golfers play on several different Tours if their schedules permit.
---
As founder and President of Berkley Golf Consulting over fifteeen years ago, I am a recognized expert in the history-- and future growth -- of women's and girls' golf in the U.S. As the LPGA has extended its global reach along with other global women's golf tours such as the Ladies European tour (the LET) and with the growth of women's golf in Japan, Korea, China and Australia -- women's golf is now a worldwide sport. The timing is perfect for the Olympic Games in Rio in 2016 and the historic return of golf to the competitions. Follow my observations "In My Opinion" on Notes from Nancy on www.womensgolf.com -- a website with a world-wide audience and a monthly newsletter.
My mission as an advocate of women's golf is simple: To increase the number of women and girls who play and enjoy golf! Current 2015 statistics indicate that about one-third of all new golfers in the U.S. are women. The challenge is to keep them playing golf. In an industry where in the United States 99% of the "gatekeepers" to courses are male PGA Golf Professionals, there are many challenges. Berkley Golf Consulting.com (also www.nancyberkley.com) is both an informational resource with personal editorial comments. I have always maintained an honest and independent voice about women's golf.
My services include writing about golf for women golfers and junior girls AND consulting and advising golf industry associations, facility professionals, golf course management companies about how to grow the game at their own facilities. I offer educational programs to women golfers as well as to PGA of America professionals. I am a member of the Womens Committee of the World Golf Foundation and participated in establishing and reporting on www.golfforher.com -- a website for women golfers that is well-organized by topics and offers a weekly newsletter.
My expertise is based on decades of playing golf recreationally beginning in college and during my years as a lawyer and marketing executive. With fifteen years of additional research about women's golf and more recently junior-girl golfers, I am a committed advocate to growing women's golf both as players and also as fans.
My experiences on golf club boards and committees along with participation in industry organizations provides me with a unique understanding of the barriers women may sometimes feel and experience.
I know that these barriers can be overcome by understanding why women want to play golf. why they should play golf and what a facility needs to do to keep them playing golf. For specific information about my background and qualificatios, ABOUT NANCY_CV
---
TIMELINE OF THE HISTORY OF WOMEN'S GOLF FROM 1552 TO THE PRESENT
SINCE MARY QUEEN OF SCOTS REPORTEDLY INTRODUCED THE GAME IN 1552 - TO THE RECENT HISTORY-MAKING HOLE-IN-ONE BY HA NA JANG OF SOUTH KOREA ON A 218 YARD PAR-4 HOLE IN THE INNAUGURAL 2016 SEASON OF THE LPGA AT THE PURE SILK BAHAMAS CLASSIC...
CLICK ON "HISTORY TIMELINE" ON THE BAR AT LEFT.
---
MY FREE HELP LINE. IF YOU HAVE A QUICK QUESTION, JUST USE THE CONTACT FORM ON THE "FREE HELP LINE" TAB. (DO NOT SEND AN EMAIL). IF I CAN ANSWER YOUR QUESTION IN FIFTEEN MINUTES OR LESS, IT'S MY GIFT BACK TO THE GAME OF GOLF AND THE WOMEN WHO PLAY IT.
---
Epilogue to the 2015 LPGA Season. I was at the CME Group Tour Championship in Naples, Florida, November 19-22, 2015. The stakes were high in this season-long competition. And the winners were:
$1 MILLION DOLLARS TO 17-YEAR OLD LYDIA KO (New Zealand) FOR WINNING THE "RACE TO THE CME GLOBE. $500,000 TO 38 YEAR-OLD CRISTIE KERR (U.S.) FOR WINNING THE CME GROUP TOUR CHAMPIONSHIP. INBEE PARK OF SOUTH KOREA WON THE VARE TROPHY FOR LOWEST SCRORING AVERAGE. LYDIA KO ALSO WON THE ROLEX PLAYER OF THE YEAR.
MY ARTICLE ABOUT THE LPGA - CME GROUP - GRAND FINALE TOURNAMENT IS PUBLISHED ON www.womensgolf.com
Out of the field of 72 players in CME Group Tour Championship, 24 players were from the U.S. But that number does not reflect those who reside outside the U.S. but very likely went to a U.S. college or university and maintain homes in the U.S. The next country most represented in the CME Group finale is Korea with 17 players. Women's golf is global. This summer the Rio Olympics will include golf competitions for the first time in a century.
See www.womensgolf.com. The publishers are very experienced with social media -- lots of followers on Twitter and Facebook -- and they have an excellent sense of what women golfers want to read about. The topics are those not found on other websites. And, the formats are easily read on ipads and small mobile devices. Most important for me, is that they welcome my opinions about women's golf news and my "op-ed" articles. After decades of playing golf and writing about it, I have lots of experience and opinions to share. I am in good company with contributing writers Deb Vangelow and Karen Palacios Jensen (both members of the LPGA Teaching Division).
SEE THESE OTHER RECENT ARTICLES on www.womensgolf.com
"ADVICE FOR WOMEN PLAYING BUSINESS GOLF" My article gives key advice on topics women may not have thought about when playing "business-golf." And, I explain why you don't have to be an expert golfer to play with clients and colleagues.
"MATCH PLAY OR STROKE PLAY - WHICH DO YOU LIKE?"
"ALMOST EVERYTHING THING YOU NEED TO KNOW ABOUT THE SOLHEIM CUP"
"MY CONVERSATION WITH LPGA COMMISSIONER MIKE WHAN" IN OUR 90-MINUTE INTERVIEW WE TALKED ABOUT HIS STRATEGY FOR THE LPGA, HIS ROLE AS A LEADER AND WHAT HE SEES IN THE LPGA'S FUTURE. HIS ANSWER TO MY "BLANK-CHECK" QUESTION MAY SURPRISE YOU. See www.womensgolf.com or link: https://www.womensgolf.com/mike-whan-nancy-berkley/
"DO YOU HAVE TO BE YOUNG TO PLAY GOLF?"
Want to know more about what women golfers made (and are making) history?
SEE "HISTORY TIMELINE" (ON SIDE BAR) FOR NEW ADDITION TO THE HISTORY OF WOMEN'S GOLF -- LYDIA KO, AGE 18 BECOMES THE YOUNGEST WOMAN TO WIN AN LPGA MAJOR ON SEPTEMBER 13, 2015 AT THE EVIAN CHAMPIONSHIP, EVIAN, FRANCE. AND TEAM USA WON THE 2015 SOLHEIM CUP (AFTER LOSING IT TO TEAM EUROPE IN 2013 AND 2011.)

---
NOTE: YOU MAY HAVE BEEN FORWARDED DIRECTLY TO THIS PAGE FROM www.cybergolf.com/womensgolf or to an article Iwrote about a particular subject for Cybergolf. I have written over 130 articles for and about womens golf that have appeared on the "womens golf" section of Cybergolf.com,a prominent builder of websites for golf facilities.
THE CYBERGOLF ARTICLES ARE STILL AVAILABLE: See and read them on the "CYBERGOLF ARTICLES" tab (on left side of this HOME page). Use a "search" for a particular topic among the entire list of articles -- for example, search "LPGA" or "tournament".
Most Recently see (July 31, 2015): "How Time Flies - A Decade of Reflections on Women's Golf"
---
MANY VISITORS COME TO THIS SITE LOOKING FOR NUMBERS .. ABOUT WOMEN GOLFERS... WOMEN'S GOLF SCORES... AGES OF WOMEN GOLFERS AND HANDICAP INFORMATION. THAT INFORMATION IS LOCATED IN THE "HOW MANY GOLFERS" TAB.
BUT HERE ARE SOME ANSWERS TO FREQUENT QUERIES -- ABOUT THE NUMBERS:
What is the average score of women golfers? Let's look first at the USGA Handicap System scores. The average official handicap of women golfers who report on the GHIN system is 26. The median handicap is just about the same. But that number can be misleading because many women do not report their handicap on the GHIN system. Many golf facilities use state golf organizations for registering handicaps. State systems or other "club-systems" still use the official USGA Handicap Index formula but just aren't included in the average. A bigger issue is that not ALL women even maintain "official" handicaps. My guess is that probably one-third of the women golfers in the U.S. do not keep handicaps and that those women probably do not play competitively or all that often and have higher scores. If ALL women golfers in the U.S. posted their scores, my estimate is that 50% of all women golfers would score over 100 on most golf courses.
How many rounds of golf does the "average" woman play. The reported average is usually around 18-20. But the statistics for rounds used in computing the "average" does not include play at Par 3 courses or Executive coures. And "average" is misleading. The most recent figures from the National Golf Foundation report that women between the ages of 18-34 play about 11 rounds per year. In contrast, women 65 and older play an "average' number of 45 rounds per year. It is very difficult to talk "averages." A more meaningful statistic is that about one-half of all women golfers in the U.S. play six or less rounds a year. So in answer to "How many rounds do women golfers play?" My answer is: "NOT ENOUGH!" Only 20% of golfers in the U.S. are female. Compare that to Germany with 39% female golfers or the Netherlands and Sweden where 33% of all golfers are women.

WHAT IS THE BEST GOLF RESORT FOR WOMEN IN THE U.S?
Your problem is solved. See the list of the top full-service resorts with women-friendly golf courses. Check out www.gottagogolf.comJune magazine issue and a list of ten resorts plus a "wild-card" pick. The nomination committee was composed of women leaders in the golf industry -- enjoyed being part of this group that really knows what women like.

---
Is There a Dress Code on the LPGA Tour?
Do you wonder whether there is a dress code for women golfers on the LPGA Tour? Yes, indeed there is. It's very "short" -- that's a pun. There are no restrictions on length of skirts, skorts or shorts!! No requirements about collars on shirts. But "fitness attire" is not permitted. Hmmm.... maybe golf facilities should think about loosening up their dress codes. What do you think? Tweet your thoughts to @nancyberkley or @womensonlygolf

---
Women's Golf turns to fitness and fashion.
In the 2015 U.S. Women's Open in Lancaster, Pennsylvania, Michelle Wie wore a NIKE sleeveless v-neck top -- attire not permitted at many golf clubs in the U.S. (women's tops must have sleeves OR a collar). But let's watch the Ricoh Women's British Open July 27 to August 2 in London England. European dress codes for women are much more "relaxed than in the U.S. Let's see whathe women of the Ladies Euroepean Tour (theLET) are wearing?
Almost old news: What did you think of Lexi Thompson on the cover of the May 2015 "Fitness" issue of Golf Digest magazine that features Lexi bare-breasted with just a towel wrapped around her neck to suggest at least some decency? Sex sells more sex, but it won't sell golf rounds. Compare her 2015 cover on Golf Digest with Lexi as a 12-year old on the cover of Golfer Girl Magainze (see www.golfergirlmagaziine.com) for archives of theGolferGirlMagazine.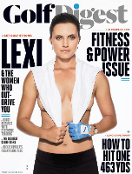 ---
THE NUMBER OF WOMEN (AND GIRLS) PLAYING GOLF IN THE UNITED STATES.
HOW MANY WOMEN GOLFERS ARE THERE IN THE U.S.?
ARE WOMEN GOLFERS IN THE U.S.INCREASING OR DECREASING... GROWING OR DECLINING? The question asked most often on this website.
NEWS FOR YEAR-ENDING 2014: THE NATIONAL GOLF FOUNDATION RELEASED SUMMARY PARTICIPATION DATA FOR 2014.
It will not have data for year-ending 2015 until the summer of 2016. The bottom line is that the number of women and junior golfers appears to have increased. The survey reports on persons who play at least one round of golf during the past 12-months. That is really a minimum number of rounds; so, don't get too excited about the statistics below. In fact, the majority of women golfers play less than 3 rounds a year.
NUMBER OF GOLFERS IN THE U.S. AS OF YEAR-ENDING 2014 WHO REPORT PLAYING AT LEAST ONE ROUND OF GOLF
SOURCE: NATIONAL GOLF FOUNDATION, JUPITER, FLORIDA
all

numbers in millions

1998

1999

2000

2001

2002

2003

2004

2005

2006

2007

2008

2009

2010

2011

2012

2013

*

2014

Adult

Female 18+

4.7

4.4

4.9

6.3

5.6

6.4

6.1

6.3

6.5

6.0

5.2

4.8

4.7

5.1

4.4

4.5

*est

4.7

Adult

Male 18+

18.4

18.9

20.9

20.2

20.4

20.6

19.7

19.8

19.7

20.1

20.5

19.6

18.2

18.2

18.2

17.2

*

15.8

Total Adults

23.1

23.3

25.8

26.5

26

27

25.8

26.1

26.2

26.1

25.7

24.4

23.6

23.3

22.6

21.7

21.5*

Girls 6-17

0.5

0.4

0.4

0.6

0.7

0.7

0.8

0.7

0.6

0.7

0.6

0.6

0.6

0.5

0.6

0.8

*1.0

Boys 6-17

2.6

2.4

2.5

2.8

3.2

2.9

3.4

3.2

3.0

2.8

2.3

2.1

1.9

1.8

2.0

2.2

*2.2

Total Juniors

3.1

2.8

2.9

3.4

3.9

3.6

4.2

3.9

3.6

3.5

2.9

2.7

2.5

2.4

2.7

3.0

*3.2

26.1

26.1

29

29.8

29.9

30.6

29.8

30.0

29.8

29.5

28.6

27.1

26.2

25.7

25.3

24.7

24.7
*asterisk in 2014 numbers are Berkley estimates derived from National Golf Foundation reports AND
the National Golf Foundation always cautions about drawing too many conclusions from small increases or decreases
in the numbers because could result from sampling errors.
BUT HERE IS MY CONCLUSION (UNTIL FURTHER NUMBERS ARE RELEASED)
THE NUMBER OF WOMEN AND GIRLS PLAYING GOLF IN THE U.S. IS INCREASING.
WHY? STAY TUNED. ANALYSIS WILL FOLLOW UPON NGF RELEASE OF ANNUAL 2014 PARTICIPATION REPORT.
For a good summary of the what women can do to increase participation, see my article "Advice to Women Golfers" in the Articles Tab on this website.
Looking at the bigger picture: the number of women golfers IN THE WORLD is probably increasing. The LPGA -- especially the LPGA Tour -- is now a uniquely global tour. It is attracting women golfers and fans particularly in Korea, Thailand, Japan along with Spain, Norway and Sweden, where women's golf has always been strong.
FROM MANELE BAY, LANAI, HAWAII...December 2015
Nancy Berkley and Director of Golf, Scott Ashworth, give a THUMBS UP! for the Manele Bay golf course on the Hawaiin island of Lanai a short distance from its neighbor island of Maui. Manele Bay is a one of Jack Nicklaus' "signature" courses featured in the new book "A Golden Eighteen" by Roger Schiffman that highlights Nicklaus' favorite designs. The Manele Bay course is a part of the Four Season Resort Lana'i. Expect more grandeur as the entire island was recently purchased by Larry Ellison, retired CEO of Oracle. The island also has an upper course that floats in the clouds which is currently undergoing restoration planning by Nicklaus. The Manele Bay course was built by Jack as a challenge for good male golfers, but the red tees -- and some white tees -- make the course very playable for women golfers of all skill levels. More to follow in a future article on www.cybergolf.com/womensgolf about why women will enjoy this beautiful golf challenge and experience.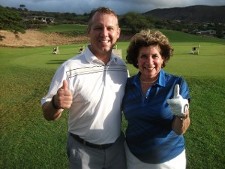 ---
SUZY WHALEY MADE HISTORY AS FIRST FEMALE OFFICER OF PGA OF AMERICA BOARD OF DIRECTORS. Suzy Whaley was elected November 22, 2014 to the position of Secretary of the PGA of America Board of Directors, making her the first female officer of The PGA in its almost 100 year history. See my article: "It's About Time for Whaley" at www.cybergolf.com/womensgolf.
And Suzy Whaley's new position on the PGA Board makes it to my History of Women's Golf Timeline (click "HISTORY TIMELINE" tab on left side of page.) Suzy's election followed closely the Shakepup on the PGA of America board... read on.
---

NANCY BERKLEY ADDRESSED OVER 400 MEMBERS OF THE PGA CAROLINA SECTION
AT ITS ANNUAL CONFERENCE: FEBRUARY 17, 2014, IN GREENSBORO, NC.
MESSAGE: THE PGA OF AMERICA HOLDS THE KEY FOR GROWING THE GAME IN THE U.S. ESPECIALLY FOR WOMEN GOLFERS. A COPY OF THE PRESENTATION CAN BE FOUND ON THE "CPGA" TAB.

---
GENDER DISCRIMINATION -- Is it holding back women from the game?
Are women treated fairly and legally on the golf course? A warning to private clubs that they must stay "private" under state law in order to maintain gender-based tee times and events.
Gender Discrimination is in the news again.. and it's not about Augusta. Recently, a husband and wife jointly sued the Plainfield Country Club in New Jersey because prime tee times were not open to both men and women. A major issue will be whether the Plainfield Country Club which considers itself a "private club" and a recognized PGA Tour venue is in fact a private club. The plaintiffs argue that because Plainfield holds major televised tournaments and because they have one nine-hole course open to the public, they are a public club and subject to the anti-discrimination laws of New Jersey. That would require that there be no gender-based tee times. Would it still be okay to have women and men's tee times during the week? Could there be special group golf lessons and clinics just for women? This is a case to watch.
The United
States Golf Association (USGA) conducts both the US Open and the US Women's Open. Historically, although the US Open appears to be open to women as well as men, I decided to check it out. A female has never qualified or tried to qualify for the U.S.Open. That made me ask: Is the Open really "open" to female golfers?? See my article about gender discrimination and gender opportunity.The dilemma of providing an environment where women are encouraged to learn and play the game without feeling intimidated is at the core of the dilemma. See: www.cybergolf.com/womensgolf for my my June 5, 2013 article titled: "Gender Discrimination in Golf - Heads Up."
---

DO YOU WISH THERE WAS A "OLD-FASHIONED" MAGAZINE JUST ABOUT WOMEN GOLFERS AND WHAT THEY ARE DOING?
FORGET IT!
THE BEST WAY TO KEEP UP WITH THE NEWS IS REGISTERING FOR A FREE EMAIL WEEKLY NEWSLETTER
REGISTER FOR THE FREE
-- LPGA WEEKLY E-NEWSLETTER. Go to the www.lpga.com website to register.
--"GOLFFORHER.COM" WEEKLY NEWSLETTER. Go to the www.golforherwebsite.com and register for newsletter.
--"WOMENSGOLF.COM. Not just the news but the views as well in this rapidly growing resource for women golfers.
FOR GIRLS GOLF

, SEE LPGA-USGA GIRLS GOLF PROGRAM on the www.lpga.com page and register for Girls Newsletter (it's great and girls love it.)
Advice to Adults Taking Kids to Golf Tournaments:
Observations of the U.S. Open at the Olympic Club. It's about Youth and the Future of the Game.
Click
www.cybergolf.com/womensgolf
Here's the photo of me with my two grandsons, Coby and Alex at the Open. We spent about four hours there (including lunch) -- that's about the limit for a 9 year-old and 7 year-old. But we saw and experienced five essential events at the Open that will keep the boys coming back to the game and to tournaments. A reminder that at most golf tournaments, children and juniors under the age of 17 are admitted free when accompanied by an adult ticket-holder is accompanied by an adult.
THE FOLLOWING ARTICLES NOW APPEAR ON THE "CYBERGOLF ARTICLES" TAB ON LEFT BAR:
DO YOU UNDERSTAND THE PENALTIES FOR SLOW PLAY IN THE LPGA, PGA AND USGA TOURNAMENTS? TAKE MY SIMPLE TRUE/FALSE TEST. Then you will understand what happened in the semi-final match of the LPGA Sybase Championship on May 20, 2012 between Morgan Pressel and Azahara Munoz.FALLOUT FROM THE MASTERS.
---
WOMEN'S GOLF & BREAST CANCER - WHAT CHARITY TO SPONSOR? Lots more choices!
It's that time of year when courses in the South begin their plans for next seasoon and courses in the North start the season. Sure to be a topic is the "charity" tournament that many women's associations at clubs sponsor in support of breast cancer research and treatment. The announcement by the Susan G. Komen Foundation regarding its support of Planned Parenthood's breast cancer detection programs made some courses rethink their designated charity. The fallout is that women are considering charities other than the Komen Foundation for their breast cancer charity golf tournaments. The above article and an earlier article ("More Choices for the Cure") are both on cybergolf.com/womensgolf and offer a broad survey of charities aimed at funding breast cancer research, detection, treatment, and providing educational information. The LPGA led the way in 1992 when it became the first professional golf association to officially sponsor a charity -- the Susan G. Komen Foundation. I have no doubt that women golfers will continue to follow the lead of the LPGA and support organizations and charities who seek the cause, treatment and cure of breast cancer.
---
HOW TO HANDICAP A 12-HOLE TOURNAMENT WHEN PLAYERS ARE PLAYING DIFFERENT HOLES?

Try a 12-hole round? It's trendy and is currently being promoted by Jack Nicklaus. But what if players are playing a different set of 12 holes? How can that be a single tournament? The question: How can you handicap a 12-hole tournament? See my article onwww.cybergolf.com/womensgolf
---


"TEE-IT FORWARD" -- MAKING GOLF EASIER AND MORE FUN IN LESS TIME -- WILL IT HELP???
CHANGE CONTINUES ON THE HORIZON FOR WOMEN GOLFERS. THE PGA AND USGA HAVE ANNOUNCED A "TEE IT FOWARD" INITIATIVE. THE INITIATIVE WILL APPLY TO BOTH MALE AND FEMALE GOLFERS. BUT IT WILL FORCE COURSES TO ASK: ARE MY FORWARD TEES FORWARD ENOUGH? SEE MY ARTICLE ABOUT FORWARD TEES IN A REVIEW OF A DOZEN COURSES IN COLORADO AND UTAH. SEE www.cybergolf.com/womensgolf.

And another new initiative is "Connect With Her" led by Donna Orender and Suzy Whaley which is an outcome of the PGA of America's strategic study conducted by the Boston Consulting Group this past year and presented at Golf 20/20 (see reference to article about Golf 20/20 below) . One of the high-priority goals of the Connect With Her program is to train and certify more female PGA golf professionals. Bravo! and Brava! Watch for my article about Liz McCabe, an intern at Beaver Creek Golf Club in Beaver Creek, Colorado and future member of the PGA of America: "The Future of the PGA is Liz"

The GET GOLF READY program offered by many courses features learning the game in five affordable lessons. The program which was initiated by the Golf 20/20 Conference is now managed by The PGA of America. see www.playgolfamerica.com for more information.

CHANGE CONTINUES ON THE HORIZON FOR WOMEN GOLFERS. THE PGA AND USGA HAVE ANNOUNCED A "TEE IT FOWARD" INITIATIVE. THE INITIATIVE WILL APPLY TO BOTH MALE AND FEMALE GOLFERS. BUT IT WILL FORCE COURSES TO ASK: ARE MY FORWARD TEES FORWARD ENOUGH? SEE MY ARTICLE ABOUT FORWARD TEES IN A REVIEW OF A DOZEN COURSES IN COLORADO AND UTAH. SEE www.cybergolf.com/womensgolf.

And another new initiative is "Connect With Her" led by Donna Orender and Suzy Whaley which is an outcome of the PGA of America's strategic study conducted by the Boston Consulting Group this past year and presented at Golf 20/20 (see reference to article about Golf 20/20 below) . One of the high-priority goals of the Connect With Her program is to train and certify more female PGA golf professionals. Bravo! and Brava! Watch for my article about Liz McCabe, an intern at Beaver Creek Golf Club in Beaver Creek, Colorado and future member of the PGA of America: "The Future of the PGA is Liz"

The GET GOLF READY program offered by many courses features learning the game in five affordable lessons. The program which was initiated by the Golf 20/20 Conference is now managed by The PGA of America. see www.playgolfamerica.com for more information.
SHOULD COURSES BE SHORTER FOR WOMEN GOLFERS? Arthur D. Little and his wife Jann Lemming think so!!
SEE THE 2015- RECENTLY RELEASED PGA REPORT OF THE ARTHUR D. LITTLE STUDY ON www.golfforher.com
See ARTHUR AND JANN'S STUDIES ON www.golfwithwomen.com. The website promotes women's golf and is published by two experts: Arthur Little and his wife Jann Lemming who used their own golf course to validate their theories. Prominent among their suggestions is making the forward tees much much shorter. They site the new 4200 yard set of tees at the Old MacDonald course at Bandon Dunes.
I have been playing many courses this past summer in Colorado and Utah from the shortest tees and trying to decide whether tee length itself is what makes a course "women friendly". They site the new 4200 yard set of tees at the Old MacDonald course at Bandon Dunes. My initial conclusion is "yes" but there are a lot of ts. In order to understand how tee length affects enjoyment of the game, women must understand the "slope" and "rating" of courses. The Little's new website also will highlight "best practices" for growing women's golf. The problem is that these best practices have been known for over two decades -- since Nancy Oliver founded the Executive Women's Golf Association in 1990. The PGA of America also promotes best practices ideas and lists for its members on the members' site. (Click my "Best Practice" tab which I modestly think is one of the best sources for best practices.) It's not "best practices" that we need; we need the "best" golf professionals who are the gate-keepers at every course women play at. FOR STARTERS: EVERY GOLF COURSE SHOULD HAVE A VERY VISIBLE 50-YARD MARKER
BERKLEY TRAVEL:

TAKE A GOLF VACATION TO...
A NEW GOLF DESTINATION: : Southwest Tuscany -- the Maremma region
See my website www.golfergirlcareers.com which includes the five interviews I did for Golfer Girl Magazine with women who played golf as a junior and how golf shaped their profession, jobs, career and life. Any parent who wonders why their daughter should learn to play golf, will enjoy reading these interviews. The interview with Jane Broderick is also on golfergirlcareers.com.
Sad but true, Golfer Girl Magazine will no longer be published. See the website http://www.golfergirlmagazine/ .com which will remain on online and will archive former issues. All of the back issues are on line and girls and their parents will enjoy reading all the fun articles. I was proud to be chairman of the Advisory Board and to worked withe the Hooton family for the past several years. (More will follow about how Libby, Courtney and Chloe Belle are doing).

www.golfergirlcareers.com CAREERS IN THE GOLF INDUSTRY FOR JUNIOR GIRLS. Every issue contained a "Careers in Golf" interview where I interview a woman who played golf seriusly as a junior and now uses golf in some other career -- other than golf professional or tour player. The first interview I did featured a landscape architect. Then came a golf clothes designer, a golf magazine editor and this latest issue contains an interview with Eunice Cho, the founder of Bonjoc Ball Markers. The most recent issue featured a golf course superintendnent who began her career as a tournament golfer -- but then had to take a detour because of a back injury. My interest in careers in the golf industry goes back a long way. I wrote the book "An Insider's Guide to Carreers in the Golf Industry" almost a decade ago for the National Golf Foundation. It still is a classic and portions will be adopted and adapted for a revised www.junior links website to be published this spring.

---
$$$ It's not a mystery: Seven Simple Rules: How to Advertise to Women? $$$

Rule 1: Include a photo or drawing of a female golfer. A picture is worth a thousand words.

Rule 2: Use the word "women" as many times as possible. Many times women think a program is just for men.

Rule 3: Include beginning and ending time of the program. Women are busy and they must know the schedule!

Rule 4: Make it clear what skill level is required. Especially include beginner golfers. Women think they are "beginners" forever.

Rule 5: Convey a "social" and "fun" experience. Yes, some women golfers like competetion, but most don't.

Rule 6: Provide free rental equipment if you are starting a program for beginners.

Rule 7: Offer value.

Remember: You can use the Free Help Line to ask Nancy a question about your advertising
---


BEST PRACTICS TO ATTRACT AND RETAIN WOMEN GOLFERS
Want to know what makes a golf course "Women-Friendly? See
BEST PRACTICES tab on side bar and an easy to use check list.
---
CALL TO ACTION FOR WOMEN GOLFERS: GET INVOLVED.
It's that time of year, whether north, south, east west when another "season" of women's golf begins at most golf clubs. This is your chance to get involved and make your opinions known. I get quite a few "Dear Nancy" emails that complain that their golf professionals are just not interested in increasing the number of women golfers. Don't tolerate it. There are only a handful of courses in the entire country that are so financially secure that they do not have to worry about more rounds and lessons.... and your course is probably not one of them. My advice is to form a small group of about three women that other women respect and take your grievances "higher." Yes, go over the head of the golf pro to the manager of club president. If you don't have a women's golf group helping plan tournaments, this is the year to start one - officially or unofficially. Read my article "Advice to Women Golfers" (find it on the side bar under "Articles.") And also look at the
"Best Practice List" and share it with your golf professional and other women golfers.

"Nancy, thank you for your wonderful presentation. I only wished my entire golf shop staff had been there to hear you."
-- Jeff Hoag, Owner/Manager, Scott Lake Country Club, Comstock Park, MI (from Michigan Golf Course Owners Annual Conference)



To purchase Nancy's book: Women Welcome Here! A Guide to Growing Women's Golf, from the National Golf Foundation ($50), click

http://secure.ngf.org/cgi/catalogsearchdetail.asp?ITEMNUMBER=99GCM14&CategoryIDword=women





THIS WEBSITE IS ALWAYS BEING UPDATED, AND YOUR SUGGESTIONS ARE ALWAYS WELCOME. IT IS A COMPREHENTISVE WEBSITE THAT WILL HELP YOU UNDERSTAND HOW TO REACH THE WOMEN'S GOLF MARKET.